I'm participating in a year long challenge, created by
Carin
. The goal is to be in one picture a week, for 52 weeks. Since us moms are always behind the camera, this gives us a chance to get out in front and be in the pictures with our family. Fun challenge, right? You can join too! Just jump in right now and let me know you're playing along!
Carin
has added a Mr. Linky on Thursdays...so that we can check out each others pictures.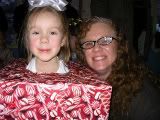 This picture is of My granddaughter Scooter 2 after her singing concert right before christmas.